The Storytelling DVDs series Adventures in Storytelling that come on 5-DVD set was edited by Simon J Productions.
Some adults never truly grow up.  Their toys just get bigger.  Then they have children of their own and they get to relive it all over again – but at a much higher level.  StoryWatchers Club was edited by James Dunn II, a creative genius with the heart of a kid, pictured here with his – Simon.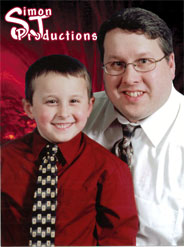 James ( Email ) provided the bells and whistles that keeps each program in forward motion as it rolls from storytelling segment to puppetry interlude and back.  Everything that happens in between is his handiwork, especially the opening animation sequence, music video, and all Special Features post-production.
When reading the reviews and awards that speak of the series' outstanding production quality, it's hard to ignore the creative hand that controlled the mouse in the wee hours of many nights bringing the jigsaw puzzle together.
Storytelling DVDs are coming to Simon J Productions. Storytelling Educational dvd videos for kids.
Once Upon A Time …
… a Delightful New storytelling DVD Series Came Along to Introduce Youngsters to the Magical Art of Storytelling and all on DVD

"StoryWatchers Club™ Adventures in Storytelling"
There's nothing as wonderful as a child completely enraptured by a story.  With all the high-tech gadgets available to entertain children today, though, one would think it would be impossible to engage their attention without dizzying electronic lights, loud blaring music and fast-paced computer animation visuals.  No so for the masterful storyteller, who can spin delightful, engrossing tales with just the voice and body, as viewers will find in the charming new StoryWatchers Club™ Adventures in Storytelling DVD series.
Storytelling is a time-honored art that not only gives each culture its history but also adds value to education, makes learning fun, develops knowledge retention, inspires creativity and helps improve attention spans of even the youngest of viewers.  By skillfully utilizing an unlimited array of gestures, facial expressions and verbal inflections, storytellers can engage children and lead them on countless adventures; entertaining and inspiring them while quite often subtly teaching them morals, lessons and general kindnesses.
StoryWatchers Club series brings together a collection of the nation's most talented storytellers to impart to children the importance of developing and using their imaginations.  This will help strengthen their listening and verbal skills; inspire a yearning for reading and writing; and learn a wonderful new way to communicate and share their experiences with others.
The initial titles in the launch,
"Keys to Imagination"
and
"Good
Character"
will be available direct-to-DVD.  The programs are 45 minutes long and are recommended for ages 5-12. Bonus extras on each DVD in the series include:
Meet the Storytellers section – interviews with each storyteller.
Children Tell Stories Too! – children tell their favorite stories, in their own unique, creative way!
StoryWatchers Club sing-along music video.
The Making of StoryWatchers Club – behind-the-scenes fun!
Chapter selections.
"It was Albert Einstein who said that 'Imagination is more important than knowledge,'" says Eddie Sax, of Sax Media Group, who along with his wife Charlotte, are the creators and producers of StoryWatchers Club.  "With these fun filled imaginative performances, young storytellers will learn that they don't need hi-tech products, hyped-up graphics or highly-licensed characters to foster their own imagination and creativity. They'll 'see' each facet of the story in their own minds and create the visuals and comprehend the morals for themselves."   Enter the StoryWatchers Club where Cody, Jada, Juan, Jordan, Kelly, Tamayo, Booker the Book, and Riley the Bookworm, a multi-cultural cast of puppets, humorously lead the way from one storyteller to the next. In "Keys to Imagination," children will learn that polar bears really can dance, the story of Cinderella is a bit different when told from the Fairy Godmother's point of view, and a wide mouth frog can spark the creativity in all of us!  Featured storytellers are Kevin Coirdi, Christine Petrell Kallevig, Charlotte A. Battin, Barbara Schutzgruber, and Bob & Kathie Myers.In "Good Character," children will learn that greed will eventually catch up with them, what goes around comes around so being nice counts, teamwork can be more rewarding than doing it yourself, and you'll never go wrong by doing what's right. Featured storytellers are Stephanie Holman, Mary Jo Huff, Charlotte A. Battin, Judy Sima, and Yvonne Healy.
I have been working on a totally new site. A site that will be dedicated and concentrated on children DVDs. Anything from storytelling DVDs to kids working out and learning how to stay fit.  Once it launches I hope that all of you will stop by and check it out. I  will post about it here so check back often.  You might be asking why am I awake at 3am blogging. Well it seems everyone in the house is awake, most of us cannot sleep. Perhaps it is the excitement of the ultrasound in about 6 hours. My 10 year old son Simon, got to hear the heartbeat today and was beside himself and walked in the door and announced to me that it was the coolest thing ever.
I have worked with kids for almost seven years now in many different levels and I have always felt that when working or marketing to kids you will always get the parents in on it.  AT the daycare where my wife worked before moving to Tennessee I always was amazed that at Christmas time how many parents, grandparents, uncles, aunts, friends and everyone else showed up.  There were at least 400-500 adults that would show up to watch 60-80 kids perform their Christmas show. WOW!
So remember if you are in the market of selling to kids, if you get the kids on board then the parents are right behind them – most being dragged kicking and screaming.
SOLD OUT
That is correct, our Christian Comedy Konnection DVD volume 1 is free, the only thing you pay is shipping, a 20.00 value DVD for only 5.95.
From juggling to hillbillies to being wrapped in tissue paper, and yes, even how to convert a mannequin, Director James M. Dunn II and Eddie Sax bring you this exciting video for the Christian home. This non-stop hour of Christian Stand-Up Comedy will keep you laughing without losing your religion!
Preacher's kid Ryan Coffey tells about how being used in church can make you lose your coolness.
Singer, songwriter Sharron Kay King introduces you to the disruptive Guitar Granny ("Yes, you gotta wear the hat!")
Comedy Juggler Eddie Sax contends with being heckled by toddlers while he continues to toss a bowling ball 'heavenward.' ("Three clubs, two hands, one God…")
Pastor Jimmy Toney shares the opportunities that being in the ministry has afforded him to place his foot into his mouth.
Bonus footage included—"Who's in the Godhead"—a brilliant and hilarious parody of how Abbott & Costello might have explained this most controversial topic.
so order now while supplies last – if we run out we will duplicate more… still do not wait any longer to get this funny family DVD.  SOLD OUT