The Storytelling DVDs series Adventures in Storytelling that come on 5-DVD set was edited by Simon J Productions.
Some adults never truly grow up.  Their toys just get bigger.  Then they have children of their own and they get to relive it all over again – but at a much higher level.  StoryWatchers Club was edited by James Dunn II, a creative genius with the heart of a kid, pictured here with his – Simon.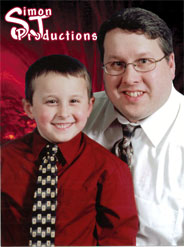 James ( Email ) provided the bells and whistles that keeps each program in forward motion as it rolls from storytelling segment to puppetry interlude and back.  Everything that happens in between is his handiwork, especially the opening animation sequence, music video, and all Special Features post-production.
When reading the reviews and awards that speak of the series' outstanding production quality, it's hard to ignore the creative hand that controlled the mouse in the wee hours of many nights bringing the jigsaw puzzle together.
I have been working on a totally new site. A site that will be dedicated and concentrated on children DVDs. Anything from storytelling DVDs to kids working out and learning how to stay fit.  Once it launches I hope that all of you will stop by and check it out. I  will post about it here so check back often.  You might be asking why am I awake at 3am blogging. Well it seems everyone in the house is awake, most of us cannot sleep. Perhaps it is the excitement of the ultrasound in about 6 hours. My 10 year old son Simon, got to hear the heartbeat today and was beside himself and walked in the door and announced to me that it was the coolest thing ever.
I have worked with kids for almost seven years now in many different levels and I have always felt that when working or marketing to kids you will always get the parents in on it.  AT the daycare where my wife worked before moving to Tennessee I always was amazed that at Christmas time how many parents, grandparents, uncles, aunts, friends and everyone else showed up.  There were at least 400-500 adults that would show up to watch 60-80 kids perform their Christmas show. WOW!
So remember if you are in the market of selling to kids, if you get the kids on board then the parents are right behind them – most being dragged kicking and screaming.
SOLD OUT
That is correct, our Christian Comedy Konnection DVD volume 1 is free, the only thing you pay is shipping, a 20.00 value DVD for only 5.95.
From juggling to hillbillies to being wrapped in tissue paper, and yes, even how to convert a mannequin, Director James M. Dunn II and Eddie Sax bring you this exciting video for the Christian home. This non-stop hour of Christian Stand-Up Comedy will keep you laughing without losing your religion!
Preacher's kid Ryan Coffey tells about how being used in church can make you lose your coolness.
Singer, songwriter Sharron Kay King introduces you to the disruptive Guitar Granny ("Yes, you gotta wear the hat!")
Comedy Juggler Eddie Sax contends with being heckled by toddlers while he continues to toss a bowling ball 'heavenward.' ("Three clubs, two hands, one God…")
Pastor Jimmy Toney shares the opportunities that being in the ministry has afforded him to place his foot into his mouth.
Bonus footage included—"Who's in the Godhead"—a brilliant and hilarious parody of how Abbott & Costello might have explained this most controversial topic.
so order now while supplies last – if we run out we will duplicate more… still do not wait any longer to get this funny family DVD.  SOLD OUT